The American Society of Mechanical Engineers (ASME) has announced the regional finalists of the 2021 ASME Innovation Showcase (ISHOW), the premier international accelerator of hardware-led social innovation. Eight social innovators from Ghana, Kenya, and Uganda will present their design prototypes in a virtual event held June 1-3.
The ISHOW Kenya finalists, whose innovations address issues including sustainable agriculture, green construction, medical diagnostics and treatment devices, and reliable water supply, will pitch their prototypes at 7 p.m. East Africa Time/noon Eastern Daylight Time on Tuesday, June 1 via web conference. ASME Executive Director/CEO Tom Costabile will welcome participants to the virtual event. (Journalists on assignment to cover the event can request login information by emailing media contact below.)
The finalists will vie for a share of $30,000 in seed grants and technical support to help bring their design innovations to market. An esteemed panel of judges will privately interview each finalist as part of an extensive design and engineering review and then will choose three hardware innovations as grand prize winners. The regional finalists are: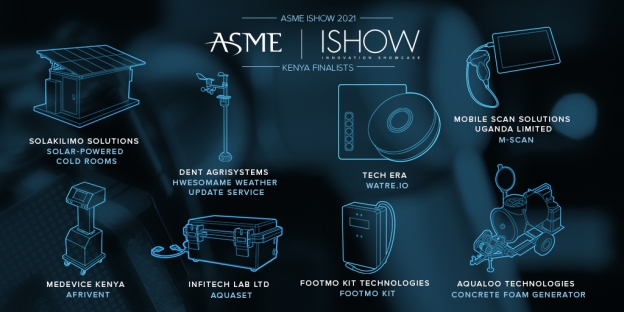 "We are proud to offer a forum for engineering problem-solving that truly improves lives," said ASME Executive Director/CEO Tom Costabile. "We are continually impressed by the creative talent of ASME ISHOW participants and their passion for helping underserved communities around the world."

ISHOW Kenya winners will be announced in a virtual awards ceremony on Wednesday,
June 9 at 6 p.m. East Africa Time/11 a.m. Eastern Daylight Time and later shared via the ASME ISHOW website, social media, and news release. Patrick Obonyo of the IKEA Foundation will provide keynote remarks. A virtual ISHOW was held last month for finalists from India and finalists from the Americas will participate in a virtual ISHOW USA event July 13-15. 

In addition, the product with the most votes in social media for each regional event will be named the "Fan Favorite'' and will receive $1,000. Follow us on Twitter @ASMEishow for more details.  The fan favorite prize is made possible and in memory of Byron G. Schieber Jr. M.S., PE, Professor Emeritus QCCNY, and Ruth L. Schieber. 
ASME's panel of judges includes successful entrepreneurs, academics, engineers, designers, investors, and industry representatives from leading organizations in India, Kenya, and the United States such as Villgro, Gearbox, Philips, Villgro Africa, and many others.
The prestigious global hardware accelerator is open to individuals and organizations taking physical products to market that will have a positive social and/or environmental impact and that improve the quality of life around the world. To date, ISHOW has enabled over 160 startups from more than 28 countries to solve critical quality-of-life challenges for people in underserved communities worldwide. ISHOW alumni have developed affordable devices to address issues including clean combustion, crop threshing, fetal health, food waste prevention, health diagnostics, safe drinking water, and many more that address the United Nations' Sustainable Development Goals.
"Social enterprises, now more than ever, need the support of the global impact community," says Iana Aranda, director of ASME's Engineering Global Development sector that houses ISHOW. "Social entrepreneurs across the world, including many ISHOW ventures, are on the frontlines of the response to the COVID-19 pandemic and advancement of the U.N. Sustainable Development Goals. We are fiercely focused on providing these innovators with accessible platforms for capacity building, expert engagement and co-design of scaling strategies suited for the new normal. Ensuring their success through this global crisis is of paramount importance."
ASME ISHOW annually matches up to 30 carefully selected innovators with appropriate engineering experts to ensure that the proposed hardware solutions are technologically, environmentally, culturally, and financially sustainable. ASME's panel of judges and experts includes successful entrepreneurs, academics, engineers, designers, investors, and industry representatives from leading organizations in India, Kenya, and the United States. These subject matter experts provide technical and strategic guidance based on ISHOW's four key pillars: customer/user knowledge, hardware validation, manufacturing optimization, and implementation strategy.
Press Release from Africa Media Agency