For Google, this period marks the end of an era of active participation of its founders; Larry Page and Sergey Brin.
Google's founders step down from top roles at Alphabet, Google's parent company. This comes more than 20 years after launching Google from a Menlo Park garage
Larry Page and Sergey Brin are stepping down from respective roles as CEO and President of Alphabet. The two will however remain on the Board of Alphabet, the company set up in 2015 as part of corporate restructuring of the online giant.
Subsequently Google's present CEO will assume the role of CEO for both companies. Notwithstanding, the pair currently hold 51 percent of active voting rights in the company. Hence, they have not relinquished power yet.
In 2015, Alphabet was set up to streamline the activities of the tech giant. Especially to ensure "cleaner and more accountable" processes in the company's expansion drive from Internet search engine.
Why the step down has become necessary
However, the co-founders, both aged 46 announced in a blog that they are stepping back from the active management of the company. According to the statement, the two will remain "actively involved as board members, shareholders and co-founders", but said it was the "natural time to simplify our management structure".
They both agree that "there's a better way to run the company. Aphabet and Google no longer have two CEOs and a President", according to the blog. As result they hope to "assume the role of proud parents- offering advice and love. But not daily nagging".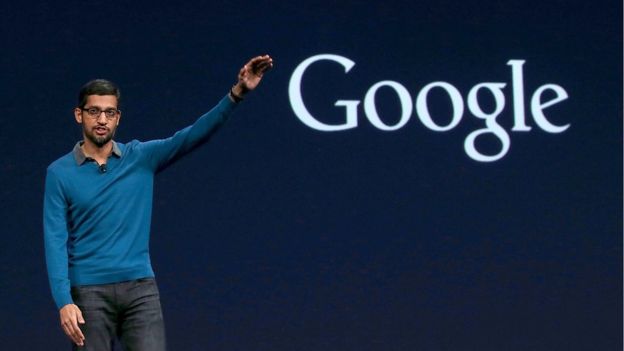 Hence, Mr Pichai, a 47 year old born in India is to lead the company into the future. Mr Pichai is a former student at Stanford University and the University of Pennsylvania. He joined Google in 2004. He gladly accepts the new responsibility and is "excited" about the transition, paying tribute to his two bosses.
Necessary for "Proud Parents" to step back
It is of interest to see founders of a hugely successful company step down from active management at a rather young age. Hence Mr Pichai notes that "the founders have given all of us an incredible chance to have an impact on the world,". Thanks to them, we have a timeless mission, enduring values, and a culture of collaboration and exploration that makes it exciting to come to work every day."
"It's a strong foundation on which we will continue to build. Can't wait to see where we go next and look forward to continuing the journey with all of you."
The actions of the two are more of putting the interest of the company first. Thus giving opportunity to individuals who have the ability to further spur the company's vision to greater heights. No individual knows it all. Hence irrespective of achievements in business, it is prudent to step aside from active management especially at certain point, when it becomes necessary.
Entrepreneurs should take a cue from their actions. Stepping back does not imply you have lost your business empire. Mind you the pair still hold 51 percent of voting rights, hence they are not giving out the ultimate power. For the best of the company, it is expedient to give opportunity for fresh brains to be at the helm of affairs.
As a matter of interest, Mr Page and Brin are ranked the 10th and 14th richest individuals in the world by Forbes, with each of them estimated to be worth about $50bn (£38bn).
Also, the American business magazine ranks Alphabet as the 17th largest public company in the world, with an estimated market value of $863bn.